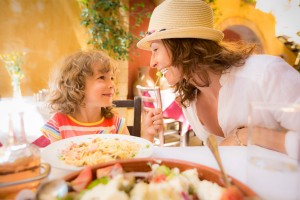 While making sure your children are getting a great education as they grow up is crucial, learning the basics of math, reading, and science- it is also important to make sure your children are also getting a chance to use their imagination! As a child gets a chance to be creative and use their imagination, they are growing their brain in powerful ways that will help them in all aspects of their life. Here are 3 at home projects that will get your child in touch with their imagination.
The first project involves getting in touch with nature- and who doesn't love that? Each season during the year presents nature in a very different way. At some point during each season, take your children outside and let them pick out things that they think represent the season the best (for example, a wildflower for summer, or a pinecone for fall). Let them pick what they want and have them explain to you why they chose it. Take all the items home and have your kids display them somehow. They may choose to press any flowers they pick, or make a display of pinecones they found. This gets your kids outside, in touch with nature, and having something to look forward to all year long!
This next project is great for a rainy or cold day when you are stuck inside- making homemade snowflakes! This is a great at home project that you probably did growing up, but is one that never gets old! What is so great about this project is that it allows your child to use their imagination to create any snowflake they want. After creating as many as you like, use any other craft supplies (like crayons, markers, or glitter) to decorate the snowflakes. Display them around your house afterwards and you have great holiday decorations for years to come! Click here for a great tutorial on how to make paper snowflakes in case you have forgotten.
This final project involves every child's favorite thing- playdough! Take this favorite play item to the next level by using it in a learning environment. For this, ask your child what their favorite subject is in school. From there, have them select one or two of their favorite concepts, and then bring them to life! Using the playdough, have your children try to create representations of their selected items (for example, if they love outer space, have them create their own playdough solar system!) This activity will allow your kids to get creative with an art project, while also incorporating elements of knowledge they have learned in school.
If you are looking for a great at home activity that is pre-made, try out the Spartan and the Green Egg Egg Puzzle!
#traveltheworld #kids #seethesights #teachyourkids #fullcyclepublications #spartanandthegreenegg  #books #nabilakhashoggi #OnTheBlog