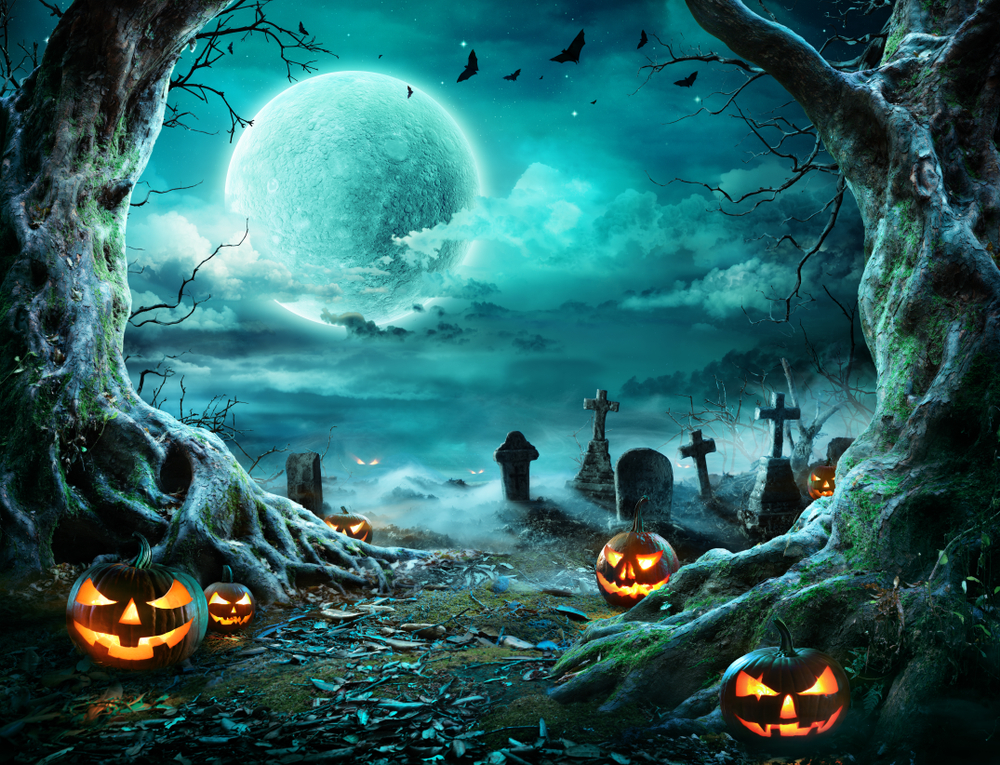 All Hallows Eve
Halloween is synonymous with children dressing up in fun, frightful costumes, gathering a haul of sweets while Trick-or-Treating, carving spooky Jack-o'-lanterns, bobbing for apples, haunted houses, and maybe catching sight of a witch flying through the night sky on her broom!
It's a time for the celebration of the macabre: of ghouls and goblins, of sitting around a fire telling ghost stories, of watching scary movies and shouting "Boo!" to passersby as the falling leaves blow hither and thither on the misty evening breeze.
So, why exactly does Halloween have these connotations, and where does it come from?
Halloween: Origins and Traditions

The original tradition of Halloween started with the Celts in Ireland, Scotland, the UK, and the north of France over 2,000 years ago. A festival called "Samhain" was celebrated where people would dress up in costume to ward off ghosts and build bonfires. Instead of October 31st, this celebration took place on November 1st. Did you know that "Samhain" (pronounced "sow-in") literally means "summer's end" in the modern Irish language and that the Jack-o'-lantern is attributed to the Irish as well?
Halloween in America
Due to the strict religious beliefs of the Protestants in New England, Halloween was not widely celebrated. As the customs of different Europeans and Native Americans co-mingled, Halloween emerged and became a uniquely American notion. People would gather to celebrate the harvest with parties filled with food, drink, and music. Today Halloween parties are elaborate fun complete with over-the-top costumes, spooky decorations, and delicious treats.
Love Spells and Bats

Because bats are attracted to light as well as bugs, they mistake bonfires for the light from the moon and fly nearby. Ancient peoples took notice of this and immediately associated bats with their celebrations. In the eighteenth and nineteenth centuries, women would try and conjure a husband using love spells. Bobbing for apples became a tradition and the legend went that the first woman to reach an apple with her teeth would marry. Her future husband's reflection would supposedly then appear in the water.
Halloween Celebrations and Festivals Around the Globe

Día de los Muertos (Day of the Dead) is celebrated on November 1st and 2nd in Mexico and in certain parts of Latin America. This is when lost loved ones' graves are visited, tended to, and, according to tradition, spirits walk the earth for twenty-four hours to reunite with their families. Altars filled with marigolds, sugar skulls, and other goodies (including pan de muerto or "bread of the dead") are erected to honor the dead.
Romanians celebrate their most well-attributed character on the Day of Dracula. Count Dracula (from Bram Stoker's 1897 novel) is known for residing in his eerie mansion in Transylvania, where he sucks blood from his victims using sharp fangs, loves to listen to the howling of wolves, and transforms into a bat at will.
The Hungry Ghost Festival in Hong Kong (from mid-August to mid-September) is a celebration for restless or "hungry" ghosts, so food offerings are made and people have an excuse to feast.
Families in Cambodia pay their respects to the dead as well as the elderly on Pchum Ben. People visit temples and leave offerings such as flowers and sweet rice and beans wrapped in banana leaves.
For more information on Halloween and its origins, consult the websites listed below:
https://www.history.com/topics/halloween/history-of-halloween
https://www.goodhousekeeping.com/holidays/halloween-ideas/g4607/history-of-halloween/
https://time.com/5434659/halloween-pagan-origins-in-samhain/
https://www.globaltiesus.org/news/9-news/833-12-halloween-traditions-from-around-the-world
#traveltheworld #kids #seethesights #teachyourkids #fullcyclepublications #spartanandthegreenegg #books #nabilakhashoggi #OnTheBlog #halloween #halloweenorigins