(photo courtesy of schooladvisor.my)
·      Why Learning a Foreign Language is Rewarding:
Learning a foreign language may be one of the most challenging yet rewarding things a person can do. It comes naturally to some and is more difficult for others but one thing is certain: it's easier when you're young. It's also a lot easier to learn a foreign language if one is immersed in the sounds and is among native speakers. It is incredibly rewarding to learn another's native tongue as it helps us to understand the nature of language and what it truly means to communicate with each other. It is also rewarding to try and expand one's mind as much as possible and to have learning challenges: always learning is like setting out on a constant adventure where your mind is the mode of travel.
There are many benefits to learning a new language and the Eton Institute (one of the most well-known and respected language schools in the world) has a whole list that may be of interest and encouragement for one embarking on this journey.  It has been proven that studying language keeps one sharp and helps to improve memory while even helping with the ability to multitask. Those are just a couple of amazing rewards one will reap when seeking out this particular kind of knowledge.
·      What To Do When Studying In a Classroom Is Not An Option:
Of course, taking classes or having a personal tutor is always an optimal way of learning but is not available for everyone. If one cannot learn in a classroom there are audiotapes and films available where one can listen and study. Of course, there are also books and the Rosetta Stone (an educational software company that helps to develop language and literacy). The Rosetta Stone has proven to be incredibly effective and is very popular among those studying foreign languages.
·      Fun and Inventive Ways to Actually Remember What You Learn:
If one cannot physically be in the country in which the language they're learning is spoken then watching films is always a wonderful and artistic way to grasp the culture, landscape and, of course, the language. Another way, as aforementioned, to help enhance the learning process and to spark the imagination is to watch educational films and to sing songs. FluentU (Foreign Language Immersion Online) offers tips on how to learn a foreign language while watching movies regardless of skill level. Simple songs and nursery rhymes such as Frère Jacques are also helpful when learning a new language. Of course, materials such as flash cards are ideal for studying and it's always more fun to work with a partner.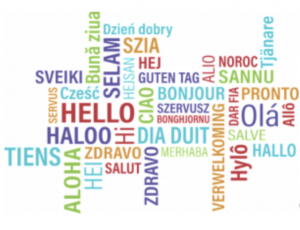 (photo courtesy of smartlanguagelearner.com)
·      Finally, Why One Should Want to Study a Foreign Language:
There are many reasons to learn a foreign language and they're all pretty exciting because they all include discovering new and wonderful things about the world. Imagine being able to communicate with all sorts of different people while learning about exotic cultures and traditions across the globe. What an amazing opportunity! It's incredibly important to know about the world around us and the people in it: learning a foreign language helps us to understand different ways of living and, in turn, we understand more about ourselves and where we come from. It's also the perfect excuse to travel. To explore all kinds of world destinations, visit Nabila K's Spartan and the Green Egg website for travel stickers and videos that include colorful images and information galore. Global Graduates is a wonderful website that focuses on studying world languages and studying abroad; it also offers helpful advice for encouraging children to learn a foreign language. For more information, look no further: https://globalgraduates.com/articles/motivate-your-child-to-learn-a-foreign-language
For further reading and to visit the sites mentioned in this blog, follow these links:  https://www.fluentu.com/blog/learning-language-through-movies/
https://etoninstitute.com/blog/top-10-benefits-of-learning-a-foreign-language
#traveltheworld #kids #seethesights #teachyourkids #fullcyclepublications #spartanandthegreenegg #books #nabilakhashoggi #OnTheBlog