Ideas for Making New Friends This Summer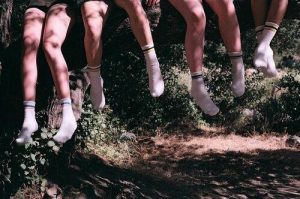 Summer can be wonderful, but it can also be lonely at times, so making new friends is your best bet at having a good time. It's really not that difficult! Try these tips and see what happens.
Where: summer camps—including ones during the day as well as sleepaways—are fantastic places to make new friends. Ones that are hosted by churches and community organizations are always a good idea because, this way, kids can meet others who live nearby, and the friendship will have a better chance of lasting. If for some reason, you make a friend who lives far away, you can become pen pals. These camps (especially 4-H and anything sponsored by a church) are usually free or low-cost. Team sports are also popular for meeting new people who enjoy the same things and have a common goal. Summer school is, for some, a good way of making new friends too, so if you think that summer isn't going to be fun because you're stuck studying, use this as an opportunity to forge a bond with your classmate/s.
"Friendship is born at the moment when one man says to another 'What! You too? I thought that no one but myself…'" –C.S. Lewis
How:
Bible schools and 4-H camps are centered around learning new skills and helping others. This usually involves volunteering and is a great way to participate in teamwork and a shared positive outcome. Engaging in summer camp activities like rowing, fishing, swimming, archery, etc., makes forming friendships easier because everyone ends up with shared experiences that are exciting and joyful. Playing games, such as Capture the Flag, also help to secure friendships. If you're not into outdoorsy things, try arts and crafts.
Tips for Parents: Enroll your kids in a program/club/camp dedicated to things they enjoy. They'll meet other likeminded children who enjoy the same activities and have similar sensibilities.  Shared hobbies and interests are ideal for forming lifelong friendships. Depending on their hobbies, they can join a club in their neighborhood/town/school that offers special events. For instance, if they enjoy reading you may want to consider enrolling them in a book club. Mingling isn't so difficult. Summer camp is actually pretty effective for even the most introverted kids because there are counselors in charge of games and activities whose job is to make sure everyone gets along. This means that no one gets left out. Children are usually paired up or on teams for summer-related sports and fun, encouraging them to be social. If they attend summer camp, they'll probably become friends with other kids in their cabin (especially their bunkmates). 
What does every summer camp have in common? On the first day, everyone sits in a circle and is encouraged to introduce him or herself. Make sure to add something to the conversation about what makes you interesting, special, and uniquely you!
Forge a Friendship
"Don't walk in front of me…I may not follow. Don't walk behind me…I may not lead. Walk beside me…just be my friend." –Albert Camus
First of all, be kind to everyone. As you get older, you'll realize how few and far between true friendships are and will value them more than ever. If you meet someone with shared interests who is kind and makes you feel good, cultivate that friendship! Avoid cliques and encourage everyone to join your group. If you're at summer camp and see someone eating alone in the dining hall, invite them to sit with you. You'll be surprised at just how far being amiable will take you in life.
Friendships don't just happen; you have to nurture them. This means putting other people first, being a good listener, and, sometimes, making a braided friendship bracelet. There's nothing better than someone who truly cares about you, is attentive, and fun to be around.