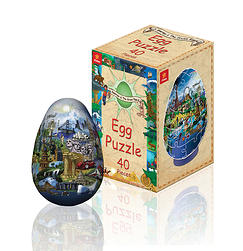 MOMS: Order now, for a year-round Easter egg, with benefits! Our unique Egg Puzzle from the Spartan And The Green Egg book series offers your child a unique perspective on the world while giving them a chance to exercise their minds and imaginations.  Let them have candy in their baskets, and keep their Spartan And The Green Egg Puzzle for their own fun!
And while you're ordering for your child, you can gift yourself with our unique Egg USB Flash Drive with Book 1 on the series on it.  Perfect for when you're on the go and you need an educational and entertaining outlet for your child to indulge in.  Carry it in your purse, and use on any computer.
What are your thoughts on puzzles for your adventurous child?  Let us know in the comments section below!
#traveltheworld #kids #seethesights #teachyourkids #fullcyclepublications #spartanandthegreenegg  #books #nabilakhashoggi #OnTheBlog