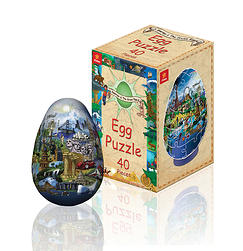 Moms, we know that Valentine's Day at school can be exciting and filled with love notes, chocolate and those special Valentine's Day boxes your child spends time crafting to reflect his or her unique and special personality.  We also know that as a day that symbolizes love, there is no better way to express your love through the act of gifting, especially when that gift shows you put extra thought into it for your child's one-of-a-kind persona.
So to help you with that, we have our VERY SPECIAL Spartan And The Green Egg egg-shaped puzzle with beautiful and fun illustrations from the series.  We know this is the kind of token your adventurous child will take to heart, and be able to share with you for years to come. That's why we have it on sale for you to order now, just in time for Valentine's Day.
For the first 14 people who order before February 14 we will include our E-book Collector's Egg USB Flash Drive free of charge, so you and your child can enjoy the first book of the series wherever you go!
So order now, so your shipment will arrive right on time to surprise your child with a gift straight from the heart of the Spartan Explorer Series!
When your gift arrives, let us know how your child likes it by leaving a comment and/or a picture in the comments section below!
#traveltheworld #kids #seethesights #teachyourkids #fullcyclepublications #spartanandthegreenegg  #books #nabilakhashoggi #OnTheBlog