"Everything is ceremony in the wild garden of childhood." –Pablo Neruda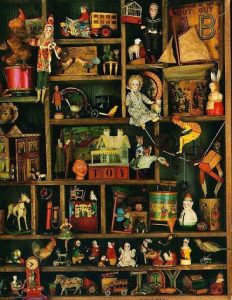 There's nothing that evokes immediate nostalgia like vintage children's toys. The primary colors of Chinese Checkers, a game of Twister, and Monkeys in a Barrel. Metal Jacks with a ball, Dominoes to line up perfectly (and then be knocked down), army men scattered across the floor, a skipping rope, tiny toy cars, and colorful blocks: all these things conjure images of an idyllic childhood, before screens. Playing with dolls is wonderful for children to learn how to communicate and to imagine interactive scenarios, while puzzles and crossword games encourage literacy and promote intellectual curiosity. 
"The creation of something new is not accomplished by the intellect but by the play instinct." –Carl Jung
The Importance of Play
"It is a happy talent to know how to play." –Ralph Waldo Emerson
The importance of play cannot be overestimated. When a child plays pretend and make-believe, they are able to imagine anything, and the possibilities are limitless. This type of freedom for the childhood mind is so precious as children are not pressured by restrictions set by society yet. They can leap from stone to stone imagining the ground is covered in lava or blow bubbles into the air without a care in the world. As Fred Rogers said, "When children pretend, they're using their imaginations to move beyond the bounds of reality. A stick can be a magic wand. A sock can be a puppet. A small child can be a superhero."
Here are some of our favorite toys for children: 
A Slinky: this spring-like favorite will inch its way down the stairs and, as a child, is endlessly fascinating. 

Dolls/Barbies/Paper Dolls/GI Joes/Plush Toys are wonderful for children to play with while creating social scenarios. Most children have a favorite doll, stuffed animal, or even a treasured blanket.

Building Blocks are the foundations for making just about anything. Of course, these are some of the most rudimentary toys in any nursery and never go out of fashion. The same sentiment goes for a spinning top, a cup with a ball on the end of a string, skipping rope, a tea set, etc. 

Colorful chalk and finger paints are essential for children to create whatever picture they wish. The grass can be purple, and this sort of creativity should be encouraged, not dismissed as wrong. Chalk should always be used for creating a schoolyard game of hopscotch!

Baseball cards are always fun to collect and, today, may have great monetary value.

A Jack in the Box that one twists as "Pop Goes the Weasel" plays—before the toy pops up—is completely classic. 
Board Games/Word Games/Puzzles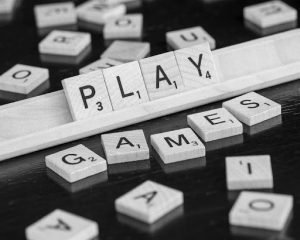 Board Games (especially ones such as Scrabble, Boggle, and Crossword puzzles) are absolutely essential for children to learn language skills. The following are some we highly recommend and that never go out of style:
Monopoly

Scrabble

Crossword Puzzles

Picture Puzzles

Tic Tac Toe
Games from SGE 
Think Adventure!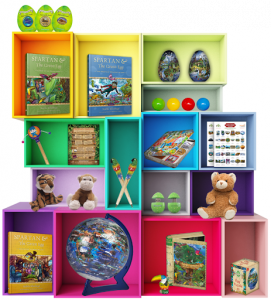 Spartan and the Green Egg offers an array of beautiful and educational toys and prizes, including 3D puzzles, matching games, and playing cards. For the little geography lovers in your life, try the spherical 240-piece puzzle, Our Planet. If you know little adventure-seekers, they're bound to love Spartan and the Green Egg's Explorer playing cards, binoculars, and World of Amazonia Tin! For more on a 3D Grow a Garden flowerpot puzzle, a 3D egg-shaped puzzle, countless stickers, patches, explorer pins, and medallions, check out the many exciting gifts that Spartan and the Green Egg has to offer at the website!