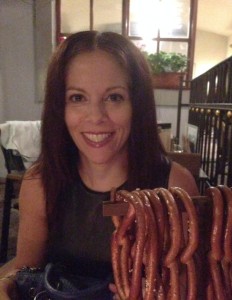 Aimee Thompson is a mom, blogger, freelance writer, communications consultant and world traveler who we were honored to have a chance talk with. She truly sets the bar for those moms who want to travel more with their children, and shares some of her secrets for making travel one of the best experiences to have with your children. We are thrilled to share her delightful and insightful conversation…
Your blog is so well written, and full of such valuable tips on how to create an adventurous life with your children. Can you talk a little about what prompted you to start writing your blog, "Raising World Citizens" via ChicagoNow?
My sons were born outside of Chicago. We moved back to the city when they were three and one years old. After having been away from Chicago for several years, I had a new appreciation for the city and all of the people, places and cultures who live and thrive here together.
Being back in Chicago energized me in new and unexpected ways. I wanted to be an urban explorer and use our regular explorations as a way to open my sons' eyes, hearts and minds to the diversity that exists throughout the world – without even leaving the city limits. As a writer, it seemed only natural to want to share our experiences with other parents raising "world citizens" here in Chicago and around the world, too. And, I knew a blog would be an easy way to connect with others.
Now, after having shared our stories via "Raising World Citizens" for just over two years, I am thrilled to say that we've only scratched the surface. There is so much more to explore here in our hometown of Chicago – and in the rest of the world.
I feel fortunate to be able to chronicle our adventures and experiences, and to use them to connect with other families across the globe. And, I can't wait to see what discoveries and opportunities lie ahead for us.
Spartan and The Green Egg aims to encourage children to find and embrace adventure in every moment of their lives, wherever they may be. It seems you do the same through your writing. Can you talk about the message behind your title, "Raising World Citizens?"
My family was at an important crossroads when I first thought of starting "Raising World Citizens." My sons were going to start at a new, French international school in the fall. We were taking our first family trip abroad to France in the summer. My sons just picked up their German passports. And, we were set to put new roots in the ground here in Chicago. After taking a step back, my husband and I saw that we were heading down a path towards raising two boys who were going to be poised to grow and thrive in the global world.
It felt good. It felt right. And, it felt like we were on to something important. That was when it really hit us. We, as parents, felt the urge to raise two world citizens. And, that was when the name of my blog was born.
But, before I officially christened my blog as "Raising World Citizens," my husband gave me one important piece of advice. He told me that it would be important to define "world citizen." To this day, I have a page on my blog solely dedicated to share my personal definition of "world citizen."  It says that "… a world citizen is someone who has a firm grasp of the breadth, depth and true diversity of the world around them and strives to seize any and all available opportunities to make a true impact on the global community."
I went on to say that "as parents, we can serve as our children's tour guides and give them amazing, diverse experiences that will help them grow and thrive – no matter how the world evolves. Whether your travels take you to far and distant lands or you never leave the Midwest, there are vast opportunities to expose your children to the world – its cultures, people and communities. It's all about finding them, embracing them, learning from them – and taking a global view that will help you cultivate your unique viewpoint of world and your place within it."
Now, two years into "Raising World Citizens," I am glad to continue to be on the path towards opening my sons' hearts, eyes and minds to the world.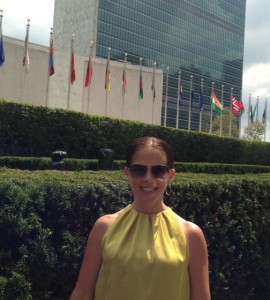 What do you love the most about raising two boys to become World Citizens?

By exposing our sons to the world through our travels in Chicago and abroad, they've come to realize that the world is so much bigger than them. They're open to trying new ethnic foods. They've set their sights on studying aboard. They appreciate the cultural traditions, dress and customs of others. They want to "master" French and also learn other languages. They love learning about and playing international sports like bocce, petanque and gaga. And, they're friends with children from many different backgrounds.
Just as important, my sons appreciate people for their differences, but know that we're really all the same – no matter if we live in the US or India. For me, I believe that helping my sons head down the path towards being a "world citizen" has encouraged them to embrace their own culture and their own differences, too. I'd also like to think that it will enable them to grow into more confident and compassionate young boys and have them feel good about and at home in the world for the rest of their lives.
Can you share a bit about your background and how you came to write and blog for other mothers?
I am a communications professional, having worked in public relations at an agency or on my own as a consultant for my entire career. It was always the ideal profession for me since it allows me to combine my love of writing with helping brands, companies and individuals share their stories with their employees, customers and consumers via the media, articles, their websites, and other channels.
For many years, I've tried to let my own writing run wild outside of my professional life, and blogging has proved to be an ideal medium to do so. At the same time, I became a new mom to two young, impressionable boys, and I experienced firsthand the trials, tribulations and joys of parenting. As a new mom learning the ropes, I knew that blogging and social media was a powerful way to show parents that there are others out there just like us, and to enable us to learn from, and connect with, each other.
It has been one of my greatest joys to meet other parents who are also seeking to raise "world citizens," and I treasure each comment or post I receive from them. I've always known the power of words to connect with, or illicit emotions in, others. Blogging for other parents via "Raising World Citizens" has shown me the impact it can have on all of us, and that is just priceless.
What is the best experience you've had so far as a mother with your sons?
Hands down, I can easily say my best experience as a mother has been traveling with my sons. It is amazing to see their reactions to new people, new languages, new foods, new TV shows, new parks and everything else that appeals to young children. It helps to give me a new appreciation for the city we're all standing in together – and the larger world that surrounds us.
Plus, it's given us so many memories that are so precious to all of us. No matter if it's riding the Staten Island ferry in New York City, making our own CUP NOODLE soup outside of Tokyo, playing petanque along the Seine in Paris, seeing how the Harry Potter movies are made in London, or attending a neighborhood festival in Chicago's Greektown, each moment was special and something that I hope will influence my sons for the rest of their lives.
Recently, my older son wrote in a letter to a pen pal that he loves to travel the world. He put that up there with watching the Avengers movie and reading the Percy Jackson books. And, that made me immensely happy and proud.
Bio:
Aimee Thompson is a Chicago mom raising two world citizens. She is a blogger, freelance writer and communications consultant.
Through her blog, Raising World Citizens, she chronicles her efforts to open her sons' eyes, hearts and minds to the people, places and cultures of the world. She also provides local insight on multicultural family-friendly events to enjoy in Chicago and offers helpful travel tips for other cities she's been fortunate to visit with her family.
You also can follow Aimee and her family's multicultural adventures via Twitter, Facebook and Instagram.
#traveltheworld #kids #seethesights #teachyourkids #fullcyclepublications #spartanandthegreenegg  #books #nabilakhashoggi #OnTheBlog