"I am a cemetery by the moon unblessed." –Charles Baudelaire, Paris Spleen
Why do we visit cemeteries? Well, we visit the gravestones of the ones who have gone before us, the ones we miss and love. Cemeteries don't have to be morbid or scary, they can be comforting, and the ones mentioned in this blog are incredible places to visit…they just happen to be graveyards! Did you know that people would actually have picnics in graveyards before public parks because it was the only place with a nice lawn where friends and family could gather?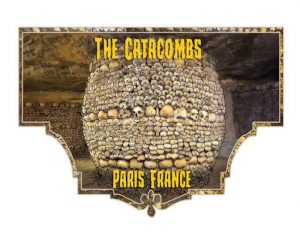 The Catacombs, Paris

:

'Arrète!  C'est ici L'empire de la Mort'

is a phrase at the entrance of the Catacombs in Paris so, whenever one visits this incredible site, this is the first thing they see, but what does it mean? 

"Stop! This is the empire of the dead."

"The Catacombs are a series of underground tunnels formerly part of a mining operation. In 1785, a portion of the labyrinth-like tunnel system was used to house human remains moved from the Saints-Innocents Cemetery. Remains from other cemeteries continued to be moved to the Catacombs throughout the 1800s. Today, the Catacombs of Paris have been turned into a tourist attraction and are affiliated with the Carnavalet Museum." Can you imagine visiting a place (underground, no less) filled with skeletons? How cool is that? Victor Hugo wrote that "Paris has another Paris under herself" (

in reference to 1300 miles of sewers, caverns, catacombs, alleys, and intersections

beneath the city). Why were all these people buried deep underground in these old quarries in the first place? Well, the cemeteries of Paris were overflowing during the 18

th

century, interfering with the water system, and infecting people with plague, so they had to be moved. Figures of the French Revolution are buried in the catacombs, including Molière and Robespierre.  
Père Lachaise Cemetery, also located in Paris, is one of the most famous burial places in the world.  The largest cemetery in Paris, it is the final resting place of icons such as Jim Morrison, Oscar Wilde, and Edith Piaf. Still unknown for certain, there could be as many as

1 million

people buried in Père Lachaise! Built-in 1804 and named for

Père François de la Chaise

(a French Jesuit priest who was also the confessor of Louis XIV), the cemetery is an extremely popular tourist attraction and doubles as a beautiful park.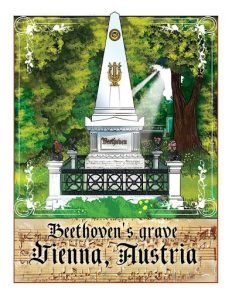 Beethoven's Grave

in Vienna, Austria. "The famous composer Ludwig Van Beethoven passed away in 1827. He was buried in a cemetery called Währinger Ortsfriedhof at first, but his body was later moved to his current resting place in Vienna, Austria, at the Zentralfriedhof cemetery. Visitors can find his grave together with the graves of Schubert and some other famous composers." It has been said that Beethoven's last words were

"Pity, pity—too late!"

(as he had just been told of a present of twelve bottles of wine from his publisher). 
For more information on the sites mentioned in this blog (along with Spartan and the Green Egg's explorer pins), consult the links below: