What Is Global Warming, and How Can You Stop It?  
Global warming is the general trend of the Earth's surface temperature increases over time. It has many natural and manmade causes. Scientists are trying to develop ways of reducing global warming because they're concerned that it could damage the environment in various ways. There are also many things you can do to help slow global warming.
Greenhouse Effect
The greenhouse effect is a key part of global warming. It's so named because of its similarity to the way a greenhouse stays warm inside. A greenhouse is a type of building made mostly of glass panes that allow sunlight in but prevent heat from escaping. Certain gases allow sunlight to enter the atmosphere without allowing heat to escape to outer space. The most common greenhouse gases include carbon dioxide, water vapor, and methane.
Causes
Animals naturally produce greenhouse gases, mainly by exhaling. Plants use greenhouse gases during photosynthesis, which generally kept greenhouse gases at constant levels throughout most of Earth's history. However, their levels started to rise during the Industrial Revolution in the late 19th century. This technological trend resulted in the burning of fossil fuels like coal, gas, and oil. These fuels are needed for many industrial processes such as powering factories, running cars, and generating electricity. In addition, many forests have been cut down to make land usable for humans, thus reducing the number of plants available to absorb greenhouse gases.
Effects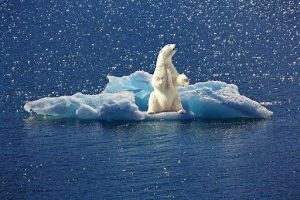 The exact rate of global warming is difficult to predict, but most scientists guess that the temperature of the Earth's surface will increase by between 3.2- and 7.2-degrees Fahrenheit by the year 2100. This increase may not sound like much, but it would cause a large portion of the polar ice caps to melt. Sea levels would rise as a result, endangering people, plants, and animals near the coast.
Stopping Global Warming
Scientists throughout the world are concerned about the effects of global warming. They're currently looking for ways to reduce the production of greenhouse gases, generally by reducing the amount of fossil fuels that we burn. Kids can also help minimize global warming by conserving energy, convincing other people to do the same, and continuing to learn more about this subject.
Save Energy
The best ways for you to conserve energy include closing outside doors immediately so that warm or cool air doesn't escape your house. You can also turn electrical appliances like computers and lights off when not in use. Additional energy-saving measures include walking or biking as much as possible instead of having your parents drive you somewhere.
Convince Others to Save Energy
You must be careful when convincing people to save energy because they don't often like being told what to do. It's much better to set examples and make suggestions than it is to give direct orders, even when you're talking to your family and friends. Starting a conservation club at school is a great way to raise awareness of global warming.
You can help save energy at home by asking your parents to keep the heat off as much as possible, especially at night and when no one is at home. Replacing incandescent bulbs with fluorescent lighting also saves money and energy over time. Encouraging your parents to run appliances like dishwashers in energy saver mode and turning the car off while waiting to pick you up from school are other ways to save energy. Recycling more material is also an important way to save energy since any type of manufacturing uses a lot of energy.
Continued Education
Continuing your education is essential for finding new energy sources that don't contribute to global warming. Solutions to this problem can come from many bodies of knowledge, including science, technology, economics, and politics. A good education can also help you make good decisions in your daily life.