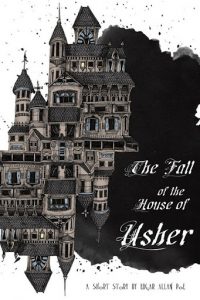 What makes horror movies so scary? Tales of vampires, the creature from the black lagoon, ghosts, mad scientists, and wolfmen awaken something within our psyche that speaks to us on a deeper level, and the most frightening Halloween story trope is the haunted house. 
With supernatural happenings and shadows dancing on a wall in the flicker of candlelight, drafts of wind blowing down a corridor, unexplained voices, creaking old staircases, dark, damp cellars filled with lurking monsters and closets filled with skeletons (literally), haunted houses make for amazing (and incredibly frightening) storytelling. The idea that a home we live in, where we're meant to feel secure, is haunted by something paranormal, is always terrifying. These tales of spooky old mansions sure make for a spine-tingling good time! 
Some of the most famous haunted houses in literature (and in films) that we love include (but are not limited to) Hill House (from The Haunting of Hill House, 1959 by Shirley Jackson), The Overlook Hotel (from Stephen King's The Shining, 1977), The House of Usher from Edgar Allan Poe's short story The Fall of the House of Usher (1839), The Bly House from Henry James' The Turn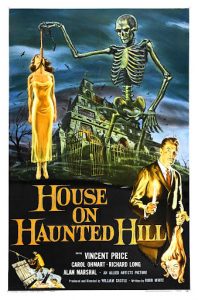 of the Screw, and even Hogwarts Castle from the Harry Potter book series. 
Many of these places aren't even houses, but they are rivetingly scary nonetheless. Poe'sHouse of Usher is a gothic mansion inhabited by twin siblings Roderick and Madeline. After Madeline's death, her body is entombed in the house. Then a powerful storm comes, a glowing paranormal lake that surrounds the house is described, and Madeline (who was actually buried alive) arises from her entombment. In the end, the house crumbles and is split down the middle as it sinks into the lake. 

Hill House from Shirley Jackson's novel was made unforgettable when the story was adapted into a classic black and white 1963 film (not to be confused with

The House on Haunted Hill

starring Vincent Price). 

 

The House on Haunted Hill

is unforgettable; with the castle's eccentric owner and a slew of guests (who are all promised $10,000 if they can stay overnight), a vat of acid, ghosts of former residents who were killed, and a swinging noose to suggest suicide, this is a frightening and over-the-top ride. 
When it comes to real life, there are actual houses that are supposedly "haunted"—whatever that means—and they're open to tourists! 
Spartan and the Green Egg have even traveled to at least one!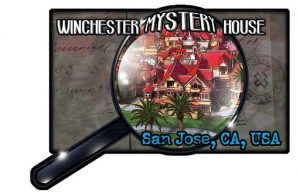 The

Winchester Mystery House

in San Jose, California: Filled with "Secret passageways, stairs that lead to nowhere, miles of twisting corridors all delight thousands of visitors to the Winchester Mystery House. Built by Sarah Winchester around 1882, the house has 160 rooms and was built without a blueprint. Each evening Mrs. Winchester would have a séance, and each morning she would tell the builders what the spirits said needed to be built. As a result, Sarah believed she was building a place where she could never be haunted."

So, if you're a lover of the macabre and get a kick out of spooky sights, don't forget to collect your Explorer Pin depicting this mysterious house! 
For more information on all sorts of fascinating places around the world, visit Spartan and the Green Egg at the website and read more on the blog.