O Christmas Tree, O Christmas Tree
How lovely are thy branches!
The Most Impressive Christmas Trees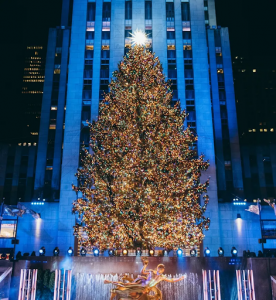 The tree in Rockefeller Center, NYC, is a sight to behold. It wouldn't be Christmas without this festive tradition! Ice skaters in pairs making figure eights as the lights of the tree glint off the rink makes for a classic tableau unique to the city. The first annual tree lighting took place in 1933, two years after workers put up their own

balsam fir

and decorated it with handmade garlands. Today there are over 50,000 lights on the tree at Rockefeller Center, and it stands magnificently (this year) at nearly 80 feet tall!

The stunningly beautiful Christmas tree at the Galeries Lafayette in Paris, beneath a skylight dome, covered in Swarovski crystals, is quite the festive sight.

The tree at La lagune Rodrigo de Freitas in Rio de Janeiro actually floats in the lagoon! Covered with

900,000

light bulbs and at 230 feet tall, this festive tradition (complete with fireworks) is a sight to behold.
Origins of Christmas Trees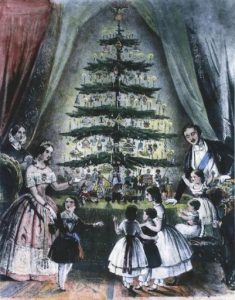 What's Your Favorite? 
"… There's a tree in the Grand Hotel, one in the park as well

The sturdy kind that doesn't mind the snow." 

–It's Beginning to Look A Lot Like Christmas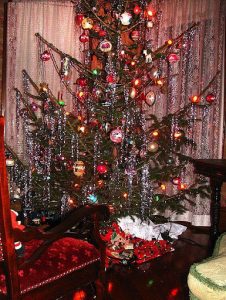 What's your favorite part of the Christmas tree? Is it the tradition of wrapping up in your warmest coat and scarf, going outside into the cold, and finding that perfect tree to chop down? Or is it placing it indoors afterward and decorating it? Maybe you love the tinsel, bright shiny baubles, and glass bulbs the best…or the angel on top! Stars, candy canes, and lights galore are a treat for everyone! Does your family put up a tree? Do you make your own ornaments, such as stringing cranberries or popcorn? Whatever your individual tradition, the most important thing during the holidays is being together and giving, rather than receiving. Love is the most important gift under the tree this Christmas. 
For more information on topics mentioned in this blog, check out the links below: